Vibrant mixed roses with a West Clay Company birthday candle.

We're honestly a little jealous of whoever gets this colorful birthday bundle. A deluxe-sized arrangement of multicolored mixed roses pairs perfectly with the OMG, It's Your Birthday candle from West Clay (scent notes: birthday cake, buttercream frosting and rainbow sprinkles).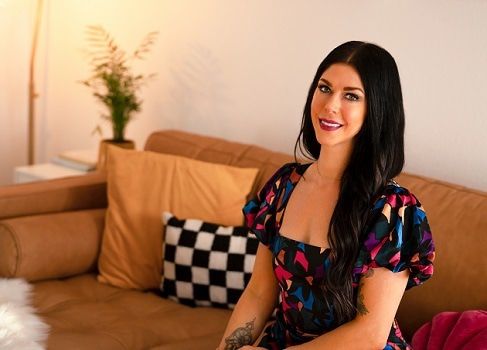 Meet Suzy,
Founder of West Clay Company
Q: Tell us a little bit about your business!
A: West Clay is a woman-owned, creative candle company that's all about celebrating sustainability, non-toxicity, and inclusivity. We're inspired by the idea of creating magic in your everyday life, and we believe that candles are the perfect way to do just that. Our scents are designed to honor all different types of people and experiences, from the sweet and serene to the wild and adventurous. We use only natural, nontoxic ingredients, because we believe that taking care of yourself and the planet go hand in hand. One thing that sets us apart is our use of paint tin vessels for our candles. This is inspired by my own passion for painting and art, and it gives our candles a unique and stylish look that's both fun and sustainable.
Q: Which women have you been inspired by during your career?
A: I'm fortunate to have been inspired by some remarkable women in my life. My maternal grandmother was a true trailblazer. She was a judge who had a passion for fashion and never compromised her style for anyone. She showed me that you can be both fierce and feminine, the importance of always showing up as my true self and not letting anyone else define who I am.
My paternal grandmother is a nurse and teacher who has a heart of gold and a creative spirit. She was always finding ways to make something beautiful out of what seemed like nothing. She taught me about kindness, seeing the potential in everything and to appreciate the little things in life.
Q: Tell me about a small daily ritual that makes you feel powerful/like yourself.
A: Daily walks with my dogs and finding inspiration through the world I experience. I try to be fully present and pay attention to the way the light filters through the leaves, the way the breeze carries the scent of blooming flowers, and the way the colors of the world shift with each passing moment. This practice helps me to approach my day with intention and authenticity, and reminds me that beauty and inspiration can be found anywhere if we take the time to look for it.
Q: How do you celebrate the women in your life?
A: I believe that time spent together is one of the most meaningful ways to celebrate the important women in my life. That might be going out for brunch or just catching up over the phone, but I try to make time to connect and show that I value our relationship. In addition to spending time with them, I also make it a point to acknowledge and celebrate their accomplishments and milestones. This could be through a thoughtful note, sending them flowers, or a celebratory dinner.
Finally, I celebrate the women in my life by amplifying their voices and supporting their causes. This could mean attending an event they are hosting, sharing their work on social media, or making a donation to a cause they support. I believe that supporting the causes and passions of the women in my life is a way to show that I value their perspectives and believe in their ability to create positive change in the world.
Q: What advice would you give to women who want to start their own business?
A: Believe in yourself, be persistent, and don't be afraid to ask for help. Finally, don't forget to prioritize self-care and balance. Starting a business can be all-consuming, but it's important to make time for the things that nourish your soul and keep you centered. Whether it's spending time with loved ones, practicing self-care rituals, or pursuing hobbies and interests outside of work, taking care of yourself is essential for long-term success and fulfillment.
Funfetti
Roses
Care Instructions
Roses are delivered with guard petals still attached — these protect the roses in transit and can be easily removed. They may appear lighter in color or have spots (this is normal!). Trim stems at an angle and fill vase with water. For the longest vase life, continue trimming stems at an angle as well as removing extra leaves when refreshing your arrangement. Please display in an area safely out of your pet's reach.
Learn More
light
Indirect
When the path of sunlight reaching your plant is not direct, or is filtered by something else (ex: sheer curtains).
water
Every 2-3 Days Full
Keep your vase filled with water. Water should be changed every 2 to 3 days.
Know Your Roots

Meet the farmer

Farmer Network
Global
At The Bouqs Co., we partner with sustainable farms that put love and care into growing our Farm-to-Table flowers. And now we have farms all over the world, allowing us to bring you the most beautiful and fresh flowers.
Learn More about how our flowers are grown
Top of Page