Store Information
6025 Royal Ln # 128, Dallas, TX 75230
Mon - Sat: 10 AM - 7 PM & Sun 10 AM - 6 PM
Preston Royal Storefront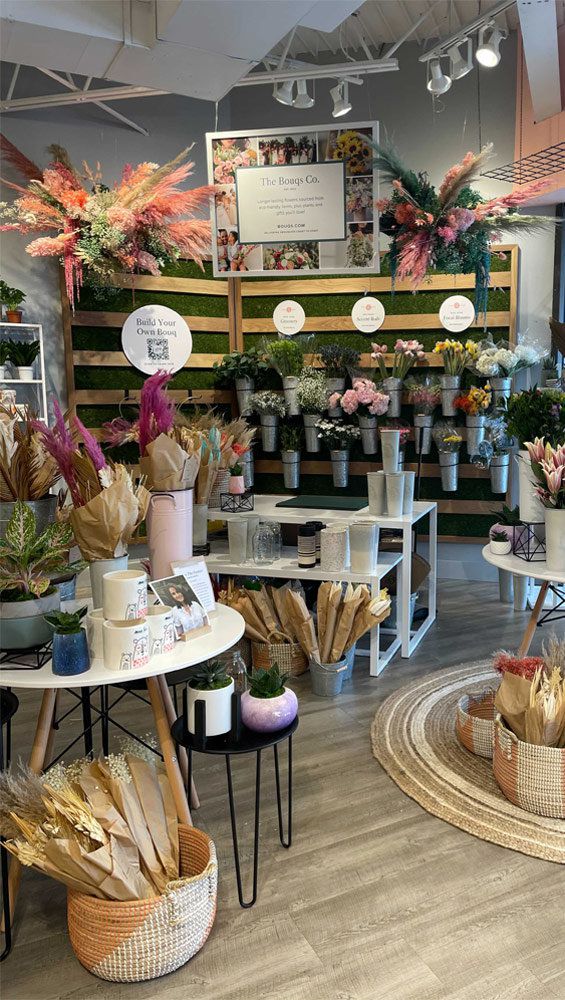 Build-Your-Own-Bouq Bar
Interior window display
Flower selection
Our Services
Purchase your favorite Bouqs

Modify a pre-arranged bouquet

Build your own Bouq bar

Houseplants

Dried flowers

Vases

Gifts
Experience The Bouqs Co. at Paper Source
If you need flowers around Preston Royal and Dallas, visit our shop inside Paper Source. Select from our pre-arranged bouquets including seasonal favorites and our most popular sellers. With a full selection of fresh flowers, dried flowers, and greenery, you can also modify your bouquet. Personalize a bouquet for a birthday or add in some of your partner's favorite blooms. Whatever the occasion, you can find just the right combination of colors and flowers for your significant other, family member, or friend. We also carry houseplants, succulents, vases, and more gifts for the garden lover in everyone.
Have ever wanted to create your own flower arrangement? Now, you can! With our Build-your-own-Bouq bar, you can build the perfect bouquet for your recipient. Pair your mom's favorite sunflowers with her beloved dried blossoms or create a dried bouquet with a single fresh flower as the focal. Unleash your creativity and choose your own unique flower arrangement.
The Bouqs Co. and Paper Source: A Perfect Match
Elevate your gift even further by combining your bouquet with your favorite Paper Source products. Ribbons, custom paper supplies, and other gifts make the perfect accessories for your stunning flower bouquet. The Bouqs Co. at the Paper Source can be your one-stop-shop for gifts for any occasion.
About Us
Our philosophy is simple at The Bouqs Co. We believe there can never be too much kindness. We value people, the planet, and how flowers are grown and delivered. At The Bouqs Co., we support sustainably sourcing our flowers. To achieve this goal, we partner with farmers dedicated to practices such as recycling water and minimizing waste. This also benefits you by ensuring you have farm-fresh, long-lasting flowers.
The simple gesture of giving flowers can brighten someone's day. By sending flowers you can spark a new connection or rekindle an old one. No matter who your recipient might be, you send smiles not just blooms. Visit our retail Bouq-tique located inside Paper Source in Preston Royal.
Visit a Bouqtique Near You
Top of Page
Top of Page