We're Sorry. This bouq is currently unavailable.
This bouquet contains a colorful rainbow of roses.
It's Pride Month, so we're making it rainbow and everyone's invited! Lots of lucky recipients will be making their very own rainbows at home by filling their vases with farm-fresh roses in every color. Brighter than ever, our Rainbow Bouq is back and ready to celebrate love in all its forms — rain or shine. Unicorn not included (check back next year!).
Note: Please don't be blue, but your water might turn blue! The dye used on our blue roses is safe, but to avoid vase staining, we recommend changing your Rainbow Bouq's water every day.


We value diversity, equality, and inclusiveness every day, and we're so excited to launch our all-new Pride Collection! Our favorite part: these Bouqs give back. We've partnered with the Los Angeles LGBT Center to help further its mission of supporting LGBT individuals and families in Los Angeles and beyond.
In honor of Pride Month, 20% of Net Profits* from the Pride Collection will be donated to the Los Angeles LGBT Center.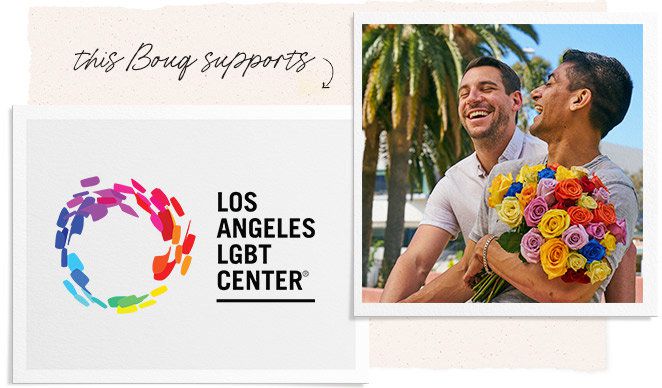 What is the Los Angeles LGBT Center?
The Los Angeles LGBT Center provides more LGBTQ+ community programs and services than any other organization in the world, including healthcare, housing, education, and more — which are available for free or at low-cost. To learn more, click here.

*Net Profits represents the net revenue minus the cost of the goods sold and marketing costs directly related to the sale of the Pride Collection. Twenty percent of the proceeds from every Pride Collection purchase in June will be donated to the Los Angeles LGBT Center to further its mission of supporting LGBTQ+ individuals and families in Los Angeles and beyond. The Bouqs Co. will make a minimum donation of $15,000 and a maximum donation of $25,000.

SHOW YOUR SUPPORT
Love always wins. Show us your pride with #BOUQLOVE.

Browse similar available bouqs
Know Your Roots

Meet the farmer

Farmer Gino
Ecuador
Gino's farm grows the world's best roses, and not in a New York City "World's Best Coffee" kind of way either. These babies are perfecto! Grown on a Volcano 10,000 feet above sea level in the most sun possible, the flowers benefit from volcanic run-off of pure ice-melt water, hence their name "Volcano Roses". Also, Gino's farm is Rainforest Alliance certified.
Learn More about how our flowers are grown
Top of Page