Vibrant arrangement highlighting white and pink ranunculus with red and orange/peach roses.

Who's ready for Ladies Night? Filled with flowers of femininity, representing the colors of the Lesbian Pride flag, this Bouq's pride shines bright. Hot pink and white spray roses meet orange, peach, and red roses, all surrounded by pink and white ranunculus. This stunner is an instant timeless beauty — fun, flirty, and 100 percent that Bouq.

Pro Tip: To ensure the freshest of the fresh, your blooms may arrive in bud form. This maximizes their shelf life so they'll last as long as possible! Please allow 2-3 days for your new buds to open and reach full bloom.


We value diversity, equality, and inclusiveness every day, and we're so excited to launch our all-new Pride Collection! Our favorite part: these Bouqs give back. We've partnered with the Los Angeles LGBT Center to help further its mission of supporting LGBT individuals and families in Los Angeles and beyond.
In honor of Pride Month, 20% of Net Profits* from the Pride Collection will be donated to the Los Angeles LGBT Center. This extra special, limited quantity bouq is excluded from discounts. Hope we can still be buds!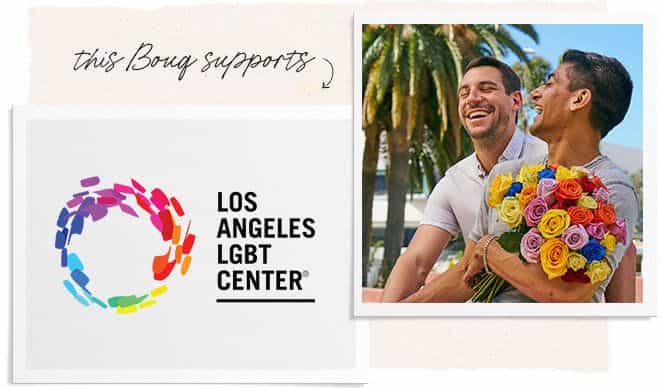 What is the Los Angeles LGBT Center?
The Los Angeles LGBT Center provides more LGBTQ+ community programs and services than any other organization in the world, including healthcare, housing, education, and more — which are available for free or at low-cost. To learn more, click here.

*Net Profits represents the net revenue minus the cost of the goods sold and marketing costs directly related to the sale of the Pride Collection. Twenty percent of the proceeds from every Pride Collection purchase in June will be donated to the Los Angeles LGBT Center to further its mission of supporting LGBTQ+ individuals and families in Los Angeles and beyond. The Bouqs Co. will make a minimum donation of $15,000 and a maximum donation of $25,000.

SHOW YOUR SUPPORT
Love always wins. Show us your pride with #BOUQLOVE.

Know Your Roots

Meet the farmer

Farmer Network
Global
At The Bouqs Co., we partner with sustainable farms that put love and care into growing our Farm-to-Table flowers. And now we have farms all over the world, allowing us to bring you the most beautiful and fresh flowers.
Learn More about how our flowers are grown
Top of Page