Perfectly pink tulips paired with a one of a kind seashell necklace.

She sells seashells…that perfectly complement luscious pink tulips. Give that special person a sugary-sweet bouquet plus a gorgeous piece of the ocean with the Inspire necklace from Clam & Clasp. The Inspire neckalce features a sustainably collected, gold-plated natural seashell (colors will vary!) on a gold-filled chain.

Pro Tip: To ensure the freshest of the fresh, your blooms may arrive in bud form. This maximizes their shelf life so they'll last as long as possible! Please allow 2-3 days for your new buds to open and reach full bloom.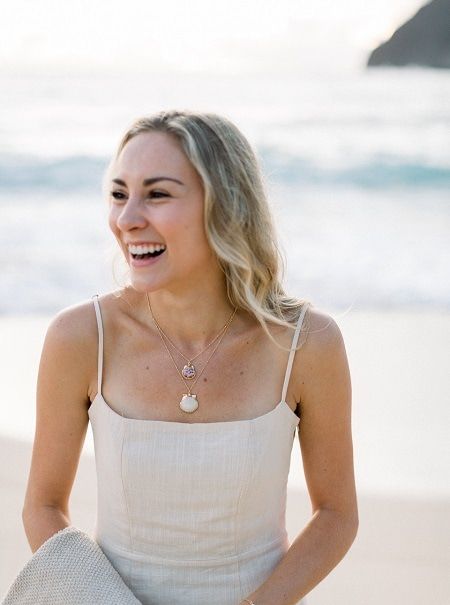 Meet Janell,
Founder of Clam & Clasp
Q: Tell us a little bit about your business!
A: I design jewelry that is handcrafted in California using sustainably collected seashells. My goal is to create elevated, unique pieces that you can wear for everyday elegance. I started Clam & Clasp in 2017 after watching the documentary Chasing Coral and learning about the significant dangers facing our oceans. I knew I wanted to get involved and give back, and thought what better way to spread awareness about ocean conservation than to create beautiful jewelry that is literally a piece of the sea? 20% of profits from each purchase are donated to an organization focused on ocean conservation, and I strive to make each aspect of my business as sustainable as possible.
Q: Which women have you been inspired by during your career?
A: There are so many amazing women who have inspired me over the years, but the ones that have made the biggest impact are those in my family. I come from a line of female entrepreneurs, starting with my grandma who came to the US from Vietnam with her 4 children during the war. She went from having nothing and barely speaking English to successfully opening and running multiple nail salons. My mom followed in her footsteps and started her own company, while raising 3 girls and never missing a dance recital or spelling bee. I'm so grateful for the examples they continue to set for me and their constant support.
Q: Tell me about a small daily ritual that makes you feel powerful/like yourself.
A: I sit and have breakfast (usually a smoothie and cup of matcha) every morning with my husband and our dog. Even if we're running late and it's just for 5 minutes, that time really helps center me and get my day started on a positive note.
Q: How do you celebrate the women in your life?
A: I'm a big believer in knowing love languages, not just for your romantic partner, but in all relationships! I try to think about how the woman I'm celebrating feels most loved - would she want a gift (Bouqs flowers are a go-to), a text telling her how proud I am of her, or to go out to dinner together? I try to make it personal so she feels super special.
Q: What advice would you give to women who want to start their own business?
A: I would say make sure you clearly define your personal mission and the mission of your company. I think it's important that you're passionate about (ideally both of) those missions. Having that passion to come back to and remind yourself of your "why" can make getting through the hardships of starting your own business a little more manageable, and also help lead you to create the right messaging and for the right people.
Seashell
Tulips
Care Instructions
Tulips are soft-stemmed beauties that arrive in bulbs. As soon as they're trimmed and hydrated, they will begin to bloom! Curved stems, caused by phototropism, is tulips' natural response to light — this is easily solved with a tall vase that supports the stems. Display in an area safely out of your pet's reach.
Learn More
light
Direct
When the path of light from the sun directly hits your plant.
water
Every 2-3 Days Partial
Fill your vase with 2 inches of water. Water should be changed every 2 to 3 days.
Know Your Roots

Meet the farmer

Farmer Network
Global
At The Bouqs Co., we partner with sustainable farms that put love and care into growing our Farm-to-Table flowers. And now we have farms all over the world, allowing us to bring you the most beautiful and fresh flowers.
Learn More about how our flowers are grown
Top of Page