Lovely arrangement with lavender roses and purple alstroes and purple stock.

Who says you can't Bi Me Love? Inspired by the Bi Pride flag's cool color palette, this dynamic Bouq swipes right on all the flowers. When you're surrounded by pink spray roses, lavender roses, green ruscus, blue thistle, and purple alstroemeria, you'd love it all, too! Packed with positivity, this arrangement is bright, loving, and not to be bypassed.

Pro Tip: To ensure the freshest of the fresh, your blooms may arrive in bud form. This maximizes their shelf life so they'll last as long as possible! Please allow 2-3 days for your new buds to open and reach full bloom.


We value diversity, equality, and inclusiveness every day, and we're so excited to launch our all-new Pride Collection! Our favorite part: these Bouqs give back. We've partnered with the Los Angeles LGBT Center to help further its mission of supporting LGBT individuals and families in Los Angeles and beyond.
In honor of Pride Month, 20% of Net Profits* from the Pride Collection will be donated to the Los Angeles LGBT Center. This extra special, limited quantity bouq is excluded from discounts. Hope we can still be buds!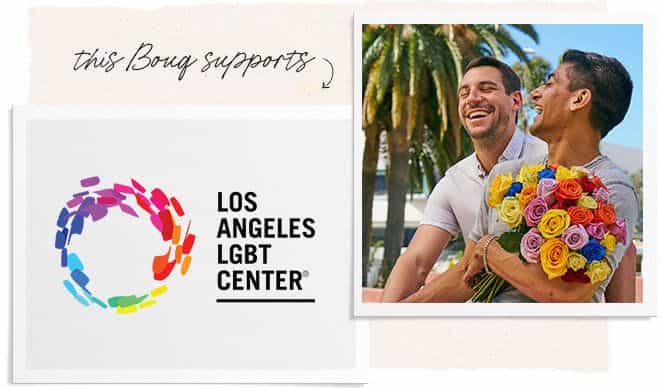 What is the Los Angeles LGBT Center?
The Los Angeles LGBT Center provides more LGBTQ+ community programs and services than any other organization in the world, including healthcare, housing, education, and more — which are available for free or at low-cost. To learn more, click here.

*Net Profits represents the net revenue minus the cost of the goods sold and marketing costs directly related to the sale of the Pride Collection. Twenty percent of the proceeds from every Pride Collection purchase in June will be donated to the Los Angeles LGBT Center to further its mission of supporting LGBTQ+ individuals and families in Los Angeles and beyond. The Bouqs Co. will make a minimum donation of $15,000 and a maximum donation of $25,000.

SHOW YOUR SUPPORT
Love always wins. Show us your pride with #BOUQLOVE.

Know Your Roots

Meet the farmer

Farmer Juanita
Colombia
Located in Bogota, this farm was founded in 1968 and grows a huge variety of focal flowers! With an average of twelve hours of sunlight and mild temperatures year-round, the region's atmosphere makes for optimal growing conditions. Also, the farm is certified by FLORVERDE, who advocates for and reinforces training, child care and family assistance initiatives, among other fair labor standards.
Learn More about how our flowers are grown
Top of Page