Dramatic bouquet with yellow + red pin cushions, purple acacia and orange roses.

Keep your glitter crown close and prepare to slay. Inspired by all the Pride vibes, our newest arrangement is out, about, and makes us wanna shout Yas Queen from the rooftops! Like the true diva this Bouq was born to be, she reps all the queens and qweens with anything-but-basic blooms. Vibrant red and yellow pin cushions, orange roses, purple acacia, plus yellow spray roses and billy buttons know how to werk it, sparking smiles and creativity everywhere they grow.

Please note this Bouq cannot be delivered to Hawaii.

Pro Tip: To ensure the freshest of the fresh, your blooms may arrive in bud form. This maximizes their shelf life so they'll last as long as possible! Please allow 2-3 days for your new buds to open and reach full bloom.


We value diversity, equality, and inclusiveness every day, and we're so excited to launch our all-new Pride Collection! Our favorite part: these Bouqs give back. We've partnered with the Los Angeles LGBT Center to help further its mission of supporting LGBT individuals and families in Los Angeles and beyond.
In honor of Pride Month, 20% of Net Profits* from the Pride Collection will be donated to the Los Angeles LGBT Center. This extra special, limited quantity bouq is excluded from discounts. Hope we can still be buds!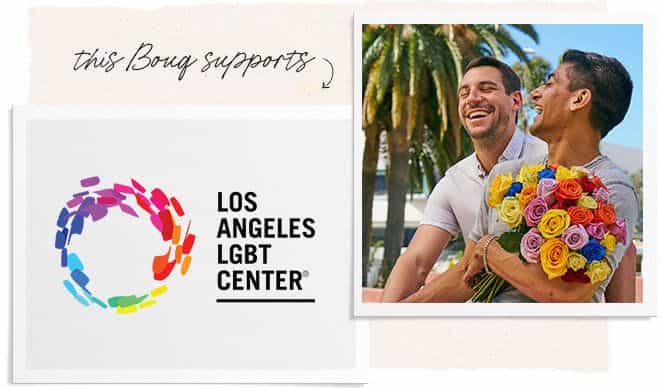 What is the Los Angeles LGBT Center?
The Los Angeles LGBT Center provides more LGBTQ+ community programs and services than any other organization in the world, including healthcare, housing, education, and more — which are available for free or at low-cost. To learn more, click here.

*Net Profits represents the net revenue minus the cost of the goods sold and marketing costs directly related to the sale of the Pride Collection. Twenty percent of the proceeds from every Pride Collection purchase in June will be donated to the Los Angeles LGBT Center to further its mission of supporting LGBTQ+ individuals and families in Los Angeles and beyond. The Bouqs Co. will make a minimum donation of $15,000 and a maximum donation of $25,000.

SHOW YOUR SUPPORT
Love always wins. Show us your pride with #BOUQLOVE.

Know Your Roots

Meet the farmer
Farmer Eli
Colombia
Farmer Eli has a passion for Proteas passed down to him by his father Jose who founded Rosamina 30 years ago.Senor Jose fell in love with Safari sunset and proteas in general and defied nature to grow them in Tabio, Cundinamarca in the outskirts of Bogota. The farm boasts with 50 hectares of field grown Proteas, pin cushions, Leucadendron, foliage and has achieved Rain forest certification as well as Basc. Our farm team of 120 employees much of them women head of household, work together to create these beautiful bouquets we hope you enjoy.
Learn More about how our flowers are grown
Top of Page