We're Sorry. This bouq is currently unavailable.
Plantable succulent bouquet with chocolate bar greeting cards

What's Included:
Set of 2- Greeting Card Chocolate Bars + Deluxe Wild About U Bouq
Description:
The name says it all: these gifts truly are Sweeter Together. Our Wild About U Bouq showcases plantable succulents alongside a classy and colorful mix of alstroemeria, solidago, and aster. U will love it. Wait — it gets sweeter. We've paired the fresh flowers with two mouthwatering Fair Trade Certified™ dark chocolate bars with sea salt and creamy caramel. Ready for the even sweeter part? (We hope so.) The chocolate bars we just mentioned? Well, they're wrapped in Sweeter Cards' "I LOVE YOU MORE THAN CHOCOLATE" and "I LOVE YOU BERRY MUCH" greeting cards! We know. Gifts really don't get much sweeter.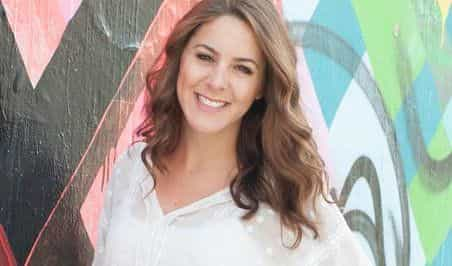 Meet Stacy Stahl,
Founder of Sweeter Cards
Q: Tell us about your business - How did you start? What should we know?

A: I started Sweeter Cards, the first-ever all-in-one greeting card and gourmet chocolate bar, shortly after my first business was acquired. As a young entrepreneur, it's always been important for me to build strong relationships with mentors and other business owners, and I was constantly looking for small but meaningful ways to say hi or thank you for all the knowledge and support I received. Unfortunately, it was tough to find something that fit the bill (and didn't cost too much!), so I got creative and started pairing a handwritten greeting card with my favorite chocolate bar. I launched Sweeter Cards in January 2019 with the goal of upping the card-giving game!

Q: Do you have a favorite item you sell?

A: I love our Boom Mic Drop card as a way to say "congrats, you did it!"
Q: What advice would you give women starting their own business?
A: Take the first step. In my case, it was as easy as calling a chocolatier to ask about buying their chocolate. That's it! Don't make it harder than it needs to be. People are held back from starting something because they think, "Well, I don't know how." Well, that's how it's supposed to be! The only way to learn is simply by doing.
Q: What does it mean to you to be a female business owner?
A: The most meaningful part of being a female business owner is showing other women their own potential by being a model for confidence and creativity.
Browse similar available bouqs
Know Your Roots

Meet the farmer

Farmer Network
Colombia
Our Colombian farms use sustainable, and eco-friendly farming practices, as well as treat their labor fairly. Most are Rainforest Certified, and all of them are helping the local community by offering their employees things like health care and onsite childcare! Plus, they cut out only what we sell - so we don't waste 1 out of every 3 stems like the traditional supply chain.
Learn More about how our flowers are grown
Top of Page